When it is time to change an electrical panel, you have to account for how it's currently installed and how safe it is to do the replacement on your own.
Homeowners tend to be wary of making changes to the electrical circuit and rightly so. There are precautions you need to take beforehand.
The first question you will want to ask is, can a homeowner replace an electrical panel?
In most regions, homeowners are not allowed to replace an electrical panel. Any individual changing or repairing an electrical panel needs to be licensed for electrical work in the state. It's best to go through local regulations to see whether or not it's permissible for an unlicensed homeowner to replace an electrical panel.
If you are unsure then it is best to call a seasoned professional who knows their way around an electrical panel.
Due to the nature of how the panel works and the role it plays, you don't want to take risks.
Here is a look at why a homeowner should not replace an electrical panel on their own and what to account for before deciding.
No products found.
Reasons For Homeowners To Not Replace Electrical Panels On Their Own
1. Can Compromise Entire Circuit
Changing an electrical panel without a permit is not allowed in some states.
This means you won't have the option of going down this path. The reason states don't allow unlicensed individuals to work on an electrical panel comes down to how compromised the circuit can become.
This increases the underlying fire risk on the property.
The entire circuit is going to be compromised if the electrical panel is not installed the right way.
If something were to go wrong, your panel won't work properly under duress. This is a major point of concern and it can lead to a serious incident.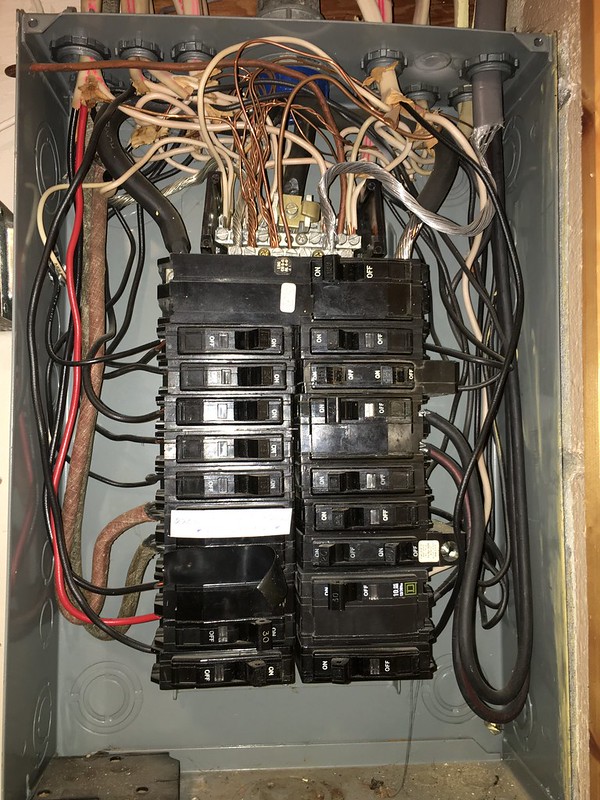 2. Increased Risk of Fire
Let's assume you begin to install an electrical panel as a homeowner and believe it is good to go.
Even one mistake is enough to do a lot of damage.
A DIY electrical panel replacement might seem like a good idea but it is not. You are going to see an increased risk of fire and this is going to lead to significant damage if you are not careful.
Most homeowners will assume the replacement will be straightforward.
This is rarely the case as little components might be out of order or things might not be where you assume they are going to be.
This means the wrong connection will lead to overloading and/or other issues across the entire electrical circuit.
3. Can Damage Surrounding Components
The electrical panel is just one part of the circuit.
You have to understand there are surrounding components that play a role in how effective the circuit is when the power is rushing through.
If one of those components is compromised, you are going to have serious concerns to deal with from a safety perspective.
This is why homeowners don't install electrical panels because it's full of risk.
You are better off letting a professional take care of it as they will know what to account for.
4. Can Increase The Likelihood Of Overloading
What is the one issue you are going to have when the electrical panel is not installed the right way?
One problem will come in the form of overloading.
The panel might not regulate the voltage properly, which means overloading is going to take place.
Even a good surge protector might not offer protection when it comes to your electronics and/or appliances.
This is risky and it is something you don't want to have to care for when installing an electrical panel. On the other hand, a qualified professional will already be aware of what to look out for during the process.
How Long Does It Take To Replace An Electrical Panel?
It can take approximately 8-10 hours to replace an electrical panel. This can vary depending on where the existing panel is, how it impacts the electrical circuit, and whether or not the setup is safe.
Final Thoughts
Can a homeowner replace the electrical panel?
A homeowner should not replace the electrical panel on their property. In most states, it is illegal to do so and only a licensed electrician can work on the circuit. This is due to the increased risk of a fire breaking out.
It is in your best interest to let a professional handle it.
They will ensure the rest of the electrical circuit is in good hands and you don't end up in a situation where a fire breaks out.
Read More About Wires: