When installing drywall in a room, you are going to have to plan everything down to the last detail.
This includes understanding how the drywall will be installed, where you are going to start, and how you are going to check everything at the end.
These are important elements that can make or break a drywall installation process.
Keeping this in mind, you will want to start by asking, does it matter if you drywall ceiling or walls first?
It is recommended to hang drywall on the ceiling first and work downwards. The reason it's best to start at the top is to complete the more difficult part of the process first. Installing drywall overhead requires lifting the material with the help of multiple people. This can lead to cracks, misaligned pieces, and other related issues.
If you start with hanging drywall on the sidewalls, there is nothing wrong with it but you are going to be saving the hardest part for last.
This can lead to significant issues especially if you get the sidewalls wrong.
This is why experts state it is best to hang drywall on the ceiling first and then work downwards from there.
Here is a look at hanging drywall from the ceiling and how to make sure you plan everything.
Sale
BOSTITCH Brad Nailer Kit, 18GA, Smart Point, Pneumatic...
Smart Point Technology: The electric brad nailer features easy nail placement as a result of a smaller nose compared to...
18 gauge brad nailer drives 18 GA brad nails from 5/8-inch to 2-1/8-inch length
Oil-free operation reduces the risk of oil stains
Last update on 2023-01-30 / Affiliate links / Images from Amazon Product Advertising API
Reasons To Hang Drywall On Ceiling First
1. Eliminates Mistakes
When learning how to drywall wall to ceiling, you have to know how to start.
The best reason to start drywalling the ceiling is simple. You are going to avoid making silly mistakes that could lead to major repair work later on.
People don't realize how ineffective the process can become when mistakes are made. Since the hardest part of the installation phase is the ceiling, it's best to start there when your mind is fresh.
This ensures the result is in line with what you want rather than having silly mistakes made along the way.
You will have more energy to lift the materials and it is also easier to line things up better.
In general, most mistakes are made on the ceiling.
This is due to how the alignment has to be managed. These mistakes are not easy to deal with and can become frustrating.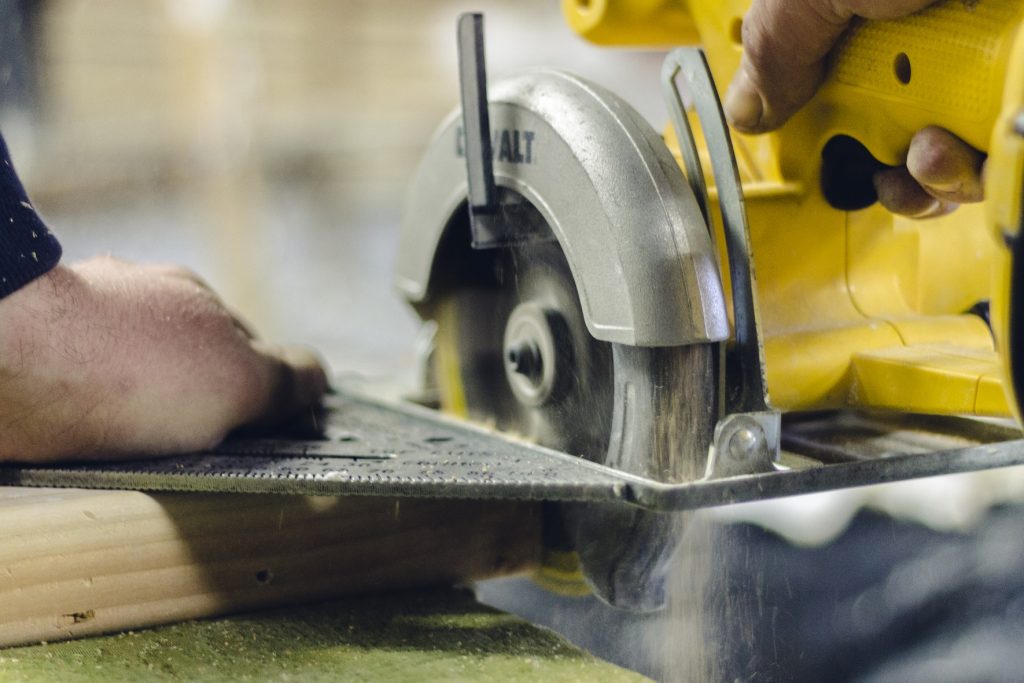 2. Avoids Exhaustion
Let's assume you have a big room to cover.
You are going to want to start on the ceiling since it's higher up. This means needing a ladder to get the drywall up and then having to set it into place while holding it.
This is taxing and you will need as much energy as possible while installing drywall on the ceiling.
If you don't have the energy, you are not going to see good results.
This is why saving the ceiling for last is a bad idea.
It is also recommended to get a partner that will help with the installation process. While the average person can work on drywalling the sidewalls, it is not as easy with anything overhead.
This is why getting someone that can lend a hand will go a long way.
3. Easier To Line Up
A common issue with setting up drywall on the ceiling has to do with the alignment.
It is not easy to get everything in place and ensure it is as straight as it needs to be. Remember, if the drywall is not straight, it is going to start to stick out and eventually sag in the middle.
This is why a lot of time has to be spent on this detail.
You have to make sure the drywall is set up in a way where it is resilient and is not going to break down over time.
If you want it to be easier to line up, you have to start here.
Final Thoughts
Does it matter if you drywall the ceiling or walls first?
It is recommended to drywall the ceiling first. This is due to the amount of effort required to install drywall overhead. This can be exhausting and it's easier to make mistakes when setting up drywall on the ceiling. Start from the top and then work your way downwards for maximum results.
This is the only way to ensure you don't have to fix ceiling-related mistakes later on.
It is difficult to do so and you are not going to want to strip down the ceiling as time goes on. Keep things organized and start working on the hardest part of the room first (i.e. the ceiling).
Read More About Walls: