Drywall mud is a key component of working on a wall and has to be managed with a lot of care to get appropriate results.
A lot of people use drywall mud and then realize it is not drying effectively.
If the drywall mud won't dry, you will want to figure out what's going on and what to do about it.
Drywall mud won't dry when there is too much moisture due to excess humidity in the room. This can be exaggerated when the drywall mud is applied too thick. To fix the issue, take a box fan and place it a few feet away from the wall. Do not use a hairdryer as this is direct heat and might ruin the finishing.
Being in a situation such as this is not the end of the world and can be remedied without removing the drywall mud.
This article will provide a clear-cut set of steps on what to do when the drywall mud won't dry.
No products found.
Steps On What To Do When Drywall Mud Won't Dry
1. Spread The Drywall Mud
You will want to start by spreading the drywall mud a little bit.
Do not create additional cracks during this process as the wet drywall mud is already going to be fragile.
Instead, you will want to begin spreading the drywall mud to ensure it has a more even finish. Sometimes, when you apply a lot in the same spot, it can begin to clump up. This will lead to unsatisfactory results that are not in line with what you want.
By taking the time to spread the drywall mud, you will get rid of the thickness that can become a major issue when it's time to dry the mud.
This step should not take a long time and you will want to do a visual inspection to see whether or not the drywall mud has been spread as it needs to be.
2. Use a Box Fan
You will want to use a box fan to dry the drywall mud.
The idea is to have air interact with the mud as that is going to let it dry quicker. A lot of people don't do this and that is what holds them back when it comes to the drying process.
If you are in an enclosed space, you will want to open the windows too. This is going to help with the moisture and ensure there is enough fresh air coming in to work on the drywall mud.
It's a simple change and one that is going to yield good results after a few hours.
One mistake you don't want to make is to use a hairdryer to dry the mud. This is going to lead to major cracks developing in the wall and that is the last thing you want to deal with.
3. Use Dehumidifier In The Room
A common reason for drywall mud not drying has to do with the humidity in the room.
You will have to find a way to extract this moisture from the air and that is where a quality dehumidifier is going to yield good results.
You are going to notice the humidity leave the space and that is what goes a long way at the end of the day.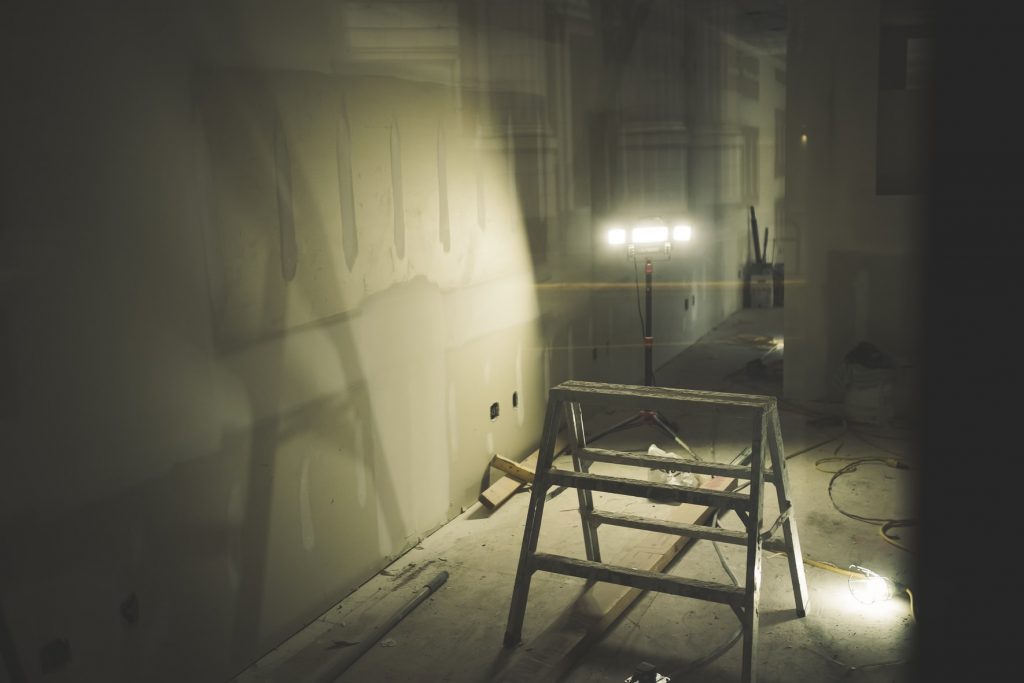 4. Test for Evenness During Drying Process
There is a sense of evenness that comes along with the drying process.
You will want to account for this by looking at the wall and determining if there are splotches of mud or not. It should be even from end to end.
If it is not, this means you are going to see subpar results and cracks will develop from one end to the other. It's important to account for this when figuring out what is good and what is not.
Final Thoughts
These are the steps to follow when drywall mud won't dry.
When drywall mud won't dry, the most common cause has to do with moisture in the mud or over-applying it. This means the drywall mud is too thick and doesn't spread evenly. To fix this issue, you will want to take a box fan and place it in front of the wall for a few hours. This will ensure the drywall mud dries evenly.
Take your time during this process and do not use a hairdryer at any stage.
If you follow these steps, the drywall mud will dry as soon as you want it to.
Read More About Walls: