When a fireplace is being designed, there are several details to think about including how the hearth is set up.
This can make a real difference in the safety and performance of the fireplace.
A common question is – should a fireplace hearth be raised or floor level?
It is recommended to have a fireplace hearth set at floor level as it is safer, easier to manage, and tends to work in most rooms. Raised fireplace hearths are not bad but can become a safety risk with pets or children around.
When taking the time to set up a fireplace hearth, it's best to consider your requirements. If you have a choice then it is likely better to go with a floor level fireplace hearth.
Here is a look at the benefits of a fireplace heart set at floor level.
5 PCS Fireplace Tools Set Wrought Iron Fire Place...
STURDY & DURABLE: Black fireplace tools are made of high-quality wrought iron that is more solid, more sturdy and durable...
ERGONOMIC DESIGN: 5 pieces fireplace decor tools include a sturdy stand with heavy-duty base, brush, shovel, tong and...
EASY TO ASSEMBLE: The outdoor fireplace tool is modern, weighty, sturdy and easy to assemble. A simple manual included in the...
Last update on 2022-08-05 / Affiliate links / Images from Amazon Product Advertising API
Benefits of a Floor Level Fireplace Hearth
1. Safer
The main concern has to do with safety.
A raised hearth is going to lead to compromises being made when it comes to accessing the fireplace. This can cause toddlers to get into the fireplace and/or pets that are just as eager to try their luck.
While a floor level fireplace is not completely safe, it is safer than a raised one.
This is why it's important to understand what is happening inside your household before making a decision one way or the other.
You don't want a situation where the fireplace hearth becomes the reason for all of the injuries that are happening inside your home. It might become difficult to change it later on.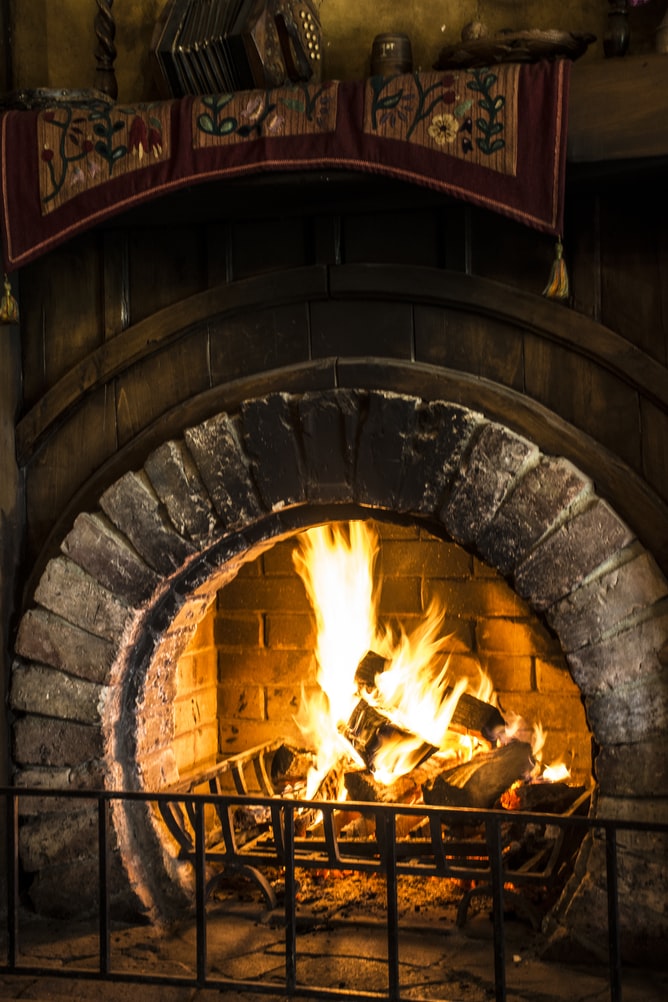 2. Easier to Maintain
Maintenance is a key detail when it comes to a fireplace and its structural integrity.
You are going to want to maintain it the right way and that's easier said than done. The reason a floor level fireplace hearth works is that it's easier to access the fireplace.
You are not going to be as restricted getting into it as a homeowner.
The floor level fireplace hearth is going to be easier to maintain as it doesn't take up extra space that has to be kept clean around it.
If you are someone that doesn't want to call someone to do the repairs, you may want to keep this in mind.
It could make a real difference in how much time is spent repairing a fireplace and/or how you clean it from the inside.
3. Takes Up Less Space
You will also want to think about the size of the room.
The raised fireplace hearth is going to take up more space. If you don't have a large room, this might become overbearing for the rest of the space.
This is why most smaller living rooms are going to have a floor level fireplace hearth because it works better.
In smaller spaces, it is best to go with a floor level fireplace hearth as it takes up less space while providing a good amount of heat at the same time.
You will want to account for the size of the room right away.
If you don't have a lot of space to work with, it's not recommended to cut into it even more. On the other hand, a large room might not have these concerns and you can look at the other factors listed here.
4. Versatile
Versatility is underrated when it comes to a fireplace hearth on the floor.
The issue has to do with knowing it will work with all types of rooms. This is a traditional fireplace and one that will work in a small or large room effectively.
This ensures you don't have to think about the fireplace because it will be a good fit. This alone is worth it for those who are unsure.
If you want a "set it and forget it" type solution then the floor level fireplace hearth is the only way to go.
Related Questions
1. Can A Fireplace Hearth Be Raised?
A fireplace hearth can be raised and this is a common design used in contemporary homes. It's recommended to assess the size of the room before raising the hearth. Larger rooms are better for a raised hearth as it takes up more space.
2. Can A Hearth Be Level With The Floor?
A fireplace hearth can be level with the floor. This is a common design seen in homes and involves the hearth being set right against the floor for improved accessibility.
Final Thoughts
Should a fireplace hearth be raised or floor level?
It is best to go with a fireplace hearth that is at floor level. This is safer, more accessible, and versatile when it comes to different types of rooms in the house.
Read More On Living Rooms: