Most homes have a traditional heating source (i.e. central furnace).
This helps keep the house warm during the coldest times of the year. However, is that the only primary heat source available to you?
In some cases, you might want to get creative.
This includes asking, can you use a gas fireplace as the primary heat source?
Gas fireplaces cannot be used as a primary heat source. This is due to the fireplace's inability to provide sufficient coverage across the entire property. If it's a multi-level home, the fireplace can't warm the other floor(s). It's best to use a central furnace to keep the property warm.
In general, a gas fireplace does serve a purpose as a heat source.
This has more to do with heating the room or floor it's on. If the gas fireplace is strong enough, it can provide ample coverage and heat for that part of the property.
This guide will take a look at using a gas fireplace as a heat source and why it is not the right option for such a setup.
Quick N Brite Fireplace Cleaner with Cleaning Brush for...
Works great on all fireplace surfaces such as brick, stone, tile, and River rock to remove smoke residue, soot, ash, dust,...
Environmentally friendly, biodegradable, and non-toxic ingredients. Eliminates the need for other household cleaners
Concentrated formula so you can be confident that it will break through even the toughest spots
Last update on 2022-05-19 / Affiliate links / Images from Amazon Product Advertising API
Reaesons A Gas Fireplace Is Not A Good Primary Heat Source
1. Minimal Coverage
Using a gas fireplace as a heat source might seem appropriate but it simply does not work the way you want it to.
The area closest to the gas fireplace will be warm, but everything else is barely going to be heated.
This is a serious concern for larger properties even if the gas fireplace runs all day long.
You have to find a consistent heat source and that's not what a gas fireplace is all about. Instead, it's often only useful for the room it's in.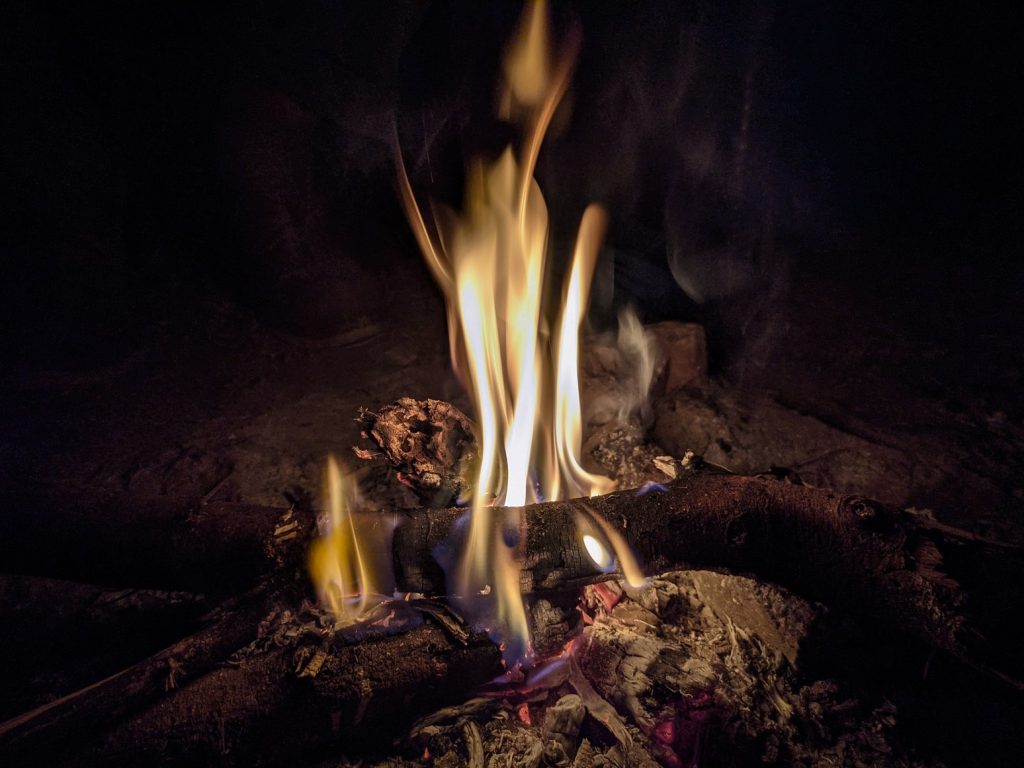 2. Inefficient Gas Usage
Using a gas fireplace as the primary heat source doesn't work due to how much gas is used per hour.
It will be a substantial amount and far more than the average gas furnace.
The real issue has to do with the amount of heat that's produced per hour of gas usage. It's far less than a central furnace.
This alone makes it better to run a furnace rather than to leave the gas fireplace on.
3. Inconsistent Heating
Let's assume you turn on the gas fireplace all day.
You will want it to heat the entire property for the day.
To do this, you will let it run and then hope it continues to warm the area around it. While this will happen, what about the room upstairs or in the basement?
Nothing will happen in those parts of the house!
They will become ice cold and that is a real drawback with using your gas fireplace as the primary heat source.
It simply won't work the way you want it to.
Is It Cheaper To Run A Gas Fireplace or The Furnace?
It is cheaper to run a central furnace than a gas fireplace. This is due to the amount of gas required for a gas fireplace to produce heat in comparison to a central furnace. A gas fireplace can only cover one or two rooms, while a central furnace covers the entire property.
This is a staggering difference in performance when it comes to a primary heat source.
Can You Heat A Whole House with A Gas Fireplace?
You cannot heat a whole house with a gas fireplace. The gas fireplace is only useful for warming one or two rooms nearby. Otherwise, rooms on another floor or far away are not going to be warmed at all. It's better to use a central furnace to warm the whole house.
How Much Area Can A Gas Fireplace Heat?
A gas fireplace can heat approximately 500-1,000 square feet depending on its size. In comparison, a central furnace can heat the entire property.
Final Thoughts
Can you use the gas fireplace as a primary heat source?
You cannot use a gas fireplace as a primary heat source. It will not warm rooms beyond the one it is installed in. This leads to subpar results and a cold house. Instead, it's better to have a central furnace as the primary heat source.
Running a gas fireplace to warm the room is one thing, but warming the house is unreasonable. Even a well-sized gas fireplace can't offer a multi-floor heating solution that's worthwhile.
At best, it will warm the room next door.
Look at the reasons listed here and understand how a gas fireplace is supposed to be used. It should never be a primary heat source in your home.
Read More On Living Rooms: