Toilets are known for being home to dangerous toxins, bacteria, and stains.
It becomes unappealing to leave the toilet in its current condition without coming up with a solution. This is why a lot of homeowners use traditional toilet cleaners as a way to keep the toilet bowl looking fresh.
However, what if it was possible to use something else? You could use WD-40 to clean the toilet. Before doing this, it's best to ask, how do you clean a toilet with WD-40?
To clean a toilet with WD-40, it's best to start by spraying the toilet bowl. Let the WD-40 sit for at least 10-15 minutes and then scrub using a brush. This will help eliminate lime stains and hard water lines without compromising the toilet's structural integrity. Once done, simply flush the toilet.
WD-40 for toilets is a wonderful idea and works well.
It is renowned for being effective, safe, and perfect for any type of toilet bowl. The porcelain will react well to the spray and is going to clean right up in minutes.
This article will go into greater detail and look at the different steps for cleaning a toilet with WD-40.
No products found.
Steps For Cleaning Toilet With WD-40
1. Only Use Original WD-40
It's normal to look for deals when buying WD-40 to clean a toilet.
You will assume any similar spray is going to do a good job. However, WD-40 offers an original formulation that's essential when it comes to getting the results you're after. It eliminates the question marks associated with other formulations on the open market.
It's recommended to only use the original WD-40 for cleaning a toilet. This will yield good value and you will see the hard water stains disappear quickly.
The WD-40 spray that has been linked above is a good starting point. It will allow you to see great results when it is time to remove the stains that are inside your toilet bowl.
2. Spray The Toilet Bowl
Once you are ready, it's time to spray the toilet bowl.
When you spray WD-40 in the toilet bowl, you don't require a lot to see positive results. Do a quick spray and cover the spots that you are targeting.
For most people, this will be a simple press of the sprayer and that will be more than enough. Don't start caking the surface as it will simply waste the WD-40.
If there are specific areas you wish to target inside the toilet bowl, it's okay to give it an additional spray. Otherwise, a quick press of the sprayer is sufficient.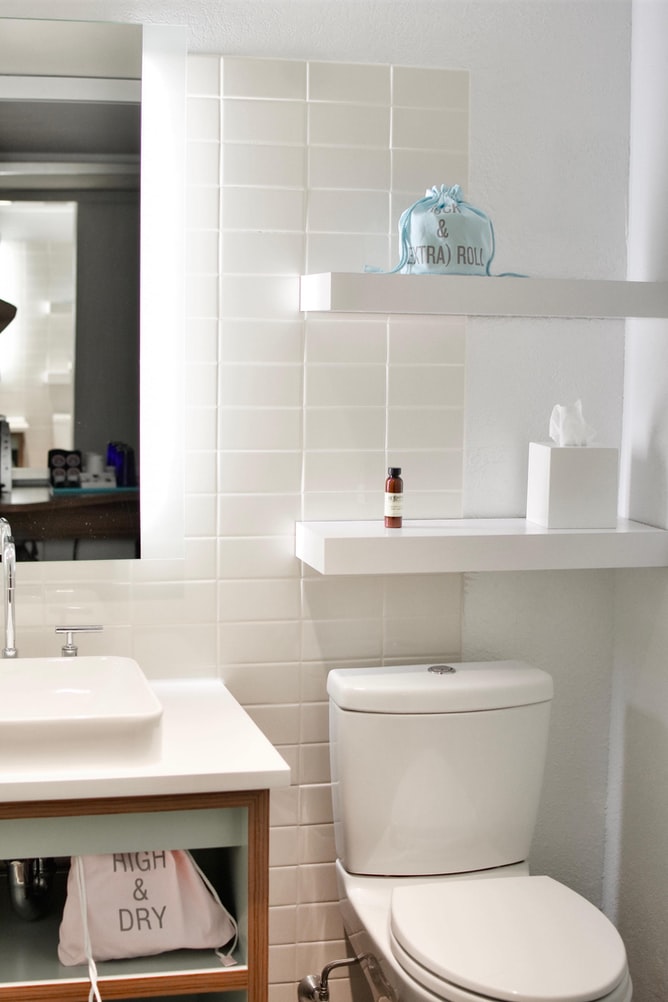 3. Wait 10-15 Minutes
Now it is time to wait.
You will have to let the WD-40 clean the toilet. This is only going to happen once the formulation gets a chance to settle in and produce the results that you are after.
It's difficult to clean a toilet when it comes to stains. In this case, the waiting period is just as important as the spraying.
You have to let it settle as that is how the stained areas will improve.
10-15 minutes is more than enough for the WD-40 to remove water stains inside the toilet. It will begin to work away on the harsher stains and quickly get rid of them.
It's recommended to open a window while doing this. The fumes are going to be noticeable and opening a window will let fresh air enter the bathroom making it a far more pleasant experience.
4. Scrub The Bowl
It is important to have a clean brush when you are scrubbing.
The goal is to let the formulation settle in and then scrub to get rid of the stains. It will take a bit of time and you are going to have to use a bit of force.
After a few scrubs, you will notice the stains go away.
5. Rinse
Take a little bit of water and rinse the toilet bowl.
You can do this by flushing the toilet or using a watering can to cover the entire toilet. It's important to make sure the WD-40 isn't left behind because that might overexpose the toilet bowl to the formulation.
Be careful during this step and do take your time while rinsing away. It matters a lot and should be done with a lot of care.
If necessary, you can always go ahead and do it a second time. This depends on whether or not the stains were tough to remove. In some cases, you will have to do it a second time to make sure the toilet bowl is clean.
Final Thoughts
These are the main tips on how to use WD-40 to clean a toilet.
When you want to clean a toilet with WD-40, start by spraying the bowl. Let it sit for at least 10-15 minutes, scrub the surface, and then rinse with water. This will offer sufficient results for those wanting to keep the toilet stain-free.
WD-40 is a powerful solution to have when cleaning a toilet at home.
Read More On Bathrooms: