When a gas stove is installed, it's going to be set right against the wall.
This is done to make sure it's even with the countertop and doesn't stick out like a sore thumb. Due to this visual detail, it's also important to find out how to pull a gas stove out from the wall.
To pull a gas stove out from the wall, place a sheet underneath the stove by lifting it. Now, gradually slide the gas stove out. It should move easily and slip right out. The gas line will have enough leeway to be pulled out without tearing.
Be patient while doing this and make sure the sheet is underneath your appliance.
The type of sheet you use can vary. Most will prefer to use plastic sheets, but you could go with something as simple as a bedsheet.
The goal is to make sure you are not scratching the flooring underneath or the appliance itself. The sheet also acts as a smoother surface to slide out the gas stove.
This guide will explain more when learning how to pull a gas stove out from the wall.
Sale
Disposable Gas Burner Liners (50 Pack) Aluminum Foil Square...
Superior Quality Aluminum Foil: Made of high-quality aluminum foil, these tin stove top liners are highly heat conductive and...
Gas Stove Liners: A must-have gas range accessory to keep your kitchen stovetop in mint condition. With high gauge and heat...
Keep Your Stove Clean: Protect your range from oil drips and food spills with these durable burner bibs. A great grease...
Last update on 2023-01-27 / Affiliate links / Images from Amazon Product Advertising API
Steps On How To Pull A Gas Stove Out From The Wall
1. Place Sheet Underneath The Stove
When learning how to move a gas stove from the wall, it's important to place some type of sheet underneath.
This includes making sure it's placed evenly.
You don't want a situation where the sheet is put in a place where it's underneath half of the stove and not the rest.
To do this, you are going to lift the stove and slide the sheet underneath as evenly as possible. This can only be done with the help of someone to lift the appliance, while you slide the sheet underneath.
To use the right type of sheet to move a gas stove away from the wall, you should look at plastic.
Plastic tends to work well when sliding a stove on kitchen flooring.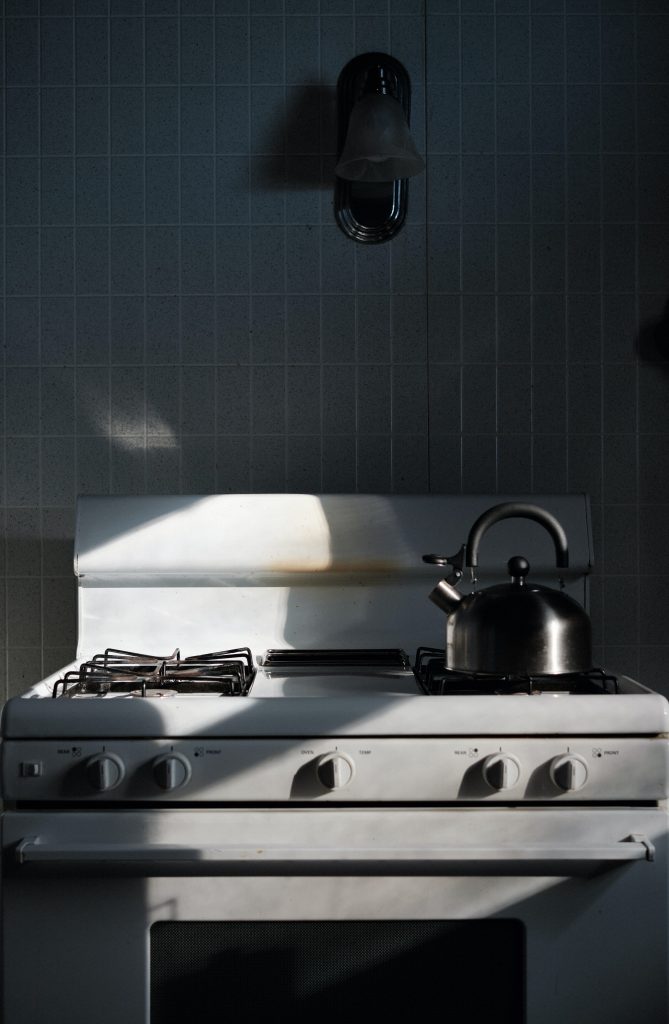 2. Pull Gently In A Straight Line
Remember, when you are pulling a gas stove away from the wall, you will need to pull in a straight line.
If you pull at an angle, it is going to hit the countertop and damage it.
The gas stove is heavy and bulky. This means it packs a punch if it knocks against anything. You are also going to be compromising the integrity of the gas stove by hitting it against something while pulling it out.
This is why you should be patient, set the sheet underneath, and then slide it out in a straight line.
For the most part, this should be easy enough to do as the sheet will provide a smoother surface to move the appliance on.
3. Don't Worry About The Gas Line
What about the gas line?
This is the biggest concern a person is going to have and the reason you might not want to pull out a gas stove.
However, a gas stove will usually have a line that goes about six feet before being fully stretched out. This means you are going to have ample space to move the appliance.
Of course, you should pay attention to how the gas line is doing during the move. This includes taking a look multiple times instead of yanking it out in one go.
If the gas line is short, you will still have enough space to stretch it out fully. Let it happen.
if you are worried, turn off the main gas line while doing this. It is a good way to feel secure in what you are doing and still get the gas stove out and away from the wall.
The goal remains to keep everything intact.
This includes the gas line.
Final Thoughts
These are the steps on how to pull a gas stove out from the wall.
When learning how to pull a gas stove out from the wall, you will want to start by lifting the appliance and placing a sheet underneath. Once the sheet is ready, slide the gas stove out in a straight line. The gas line should provide six feet of space.
This is all you are going to have to do and the gas stove is going to come right out.
If you are worried about the gas line, don't be. It is designed to be pulled out and there is always leeway given to have it come out approximately 5-6 feet.
You are going to notice the same thing with your gas stove. However, you should keep tabs on how the gas line is doing during the process. This will ensure you have peace of mind and don't overdo it.
Read More On Kitchens: