Resting on a bedsheet that's uncomfortable can be stressful.
You won't be able to get a minute of sleep in such dire conditions. This is why more and more people look for solutions if their new sheets feel like sandpaper.
When new sheets feel like sandpaper, the most common reason has to do with the chemical substance used by manufacturers. This is to preserve the sheet's structural integrity. To remove it, wash the bedsheet alone with hot water. Do this 2-3 times and air dry it.
This will get rid of the scratchy feeling.
The chemical substance used by manufacturers serves a purpose. It is important but that does not mean you should take it out of the packaging and put it directly onto the bed!
You have to do a bit of work by washing the new bedsheets with detergent and warm water. This is a must.
Here is a look at how to fix new sheets that feel like sandpaper and how to do it the right way.
Sale
Mellanni Queen Sheet Set - Hotel Luxury 1800 Bedding Sheets...
Feel the Difference - Sleep better and wake up each morning feeling refreshed and full of energy. Silky soft, most...
Queen Size Luxury 4pc Bed Sheets Set - 1 flat sheet 102"x90", 1 fitted sheet 80"x60", 2 pillowcases 20"x30". Deep pocket...
Easy Care - Fade, stain, shrink and wrinkle resistant. Machine wash in cold. Dries quick on tumble dry low. More durable than...
Last update on 2023-01-29 / Affiliate links / Images from Amazon Product Advertising API
How To Fix New Sheets That Feel Like Sandpaper
1. Wash Multiple Times With Hot Water
When learning how to soften new sheets, you will have to stick to the basics.
This means running the wash cycle with high heat.
When you do this, just put in the new bedsheets and let them go through the entire cycle. This will help rinse away the harsh chemicals used on the bedsheets.
Will it work in one go?
It is rare for that to happen.
In most cases, you are going to have to wash the new bedsheets at least 2-3 times. This will help get rid of the substance entirely.
Be patient during this part of the process as it will be the only way you can get rid of that unwanted scratchiness.
If you use detergent and hot water, the problem will go away quickly.
2. Air Dry
When learning how to soften cotton sheets, please remember that the drying process is just as important as any other step.
You have to make sure it is being air-dried.
Why does this matter?
You will eliminate any issues associated with tumble drying the sheets. It is okay to dry them in the future using a dryer, but not the first time around.
Just let it air dry and wait for the moisture to go away.
This will allow you to then test the bedsheet to see if it's in good condition.
This is an important step. Make sure you find a safe spot for the bedsheet to dry in.
3. Don't Wash With Anything Else
This is a key piece of advice.
When you are washing the scratchy bedsheet, it's important to remember that combining it with other clothes or blankets is unwise.
This is going to harm the material and it will also not allow the washing machine to focus on that particular material.
You need to give it space in the washing machine.
It is highly recommended to run the washing machine on high heat and only put the bedsheets inside. If you do this, the chemicals should go away after 2-3 washes.
If not, you might have to wash the bedsheets 5-6 times and that is a complete waste of water!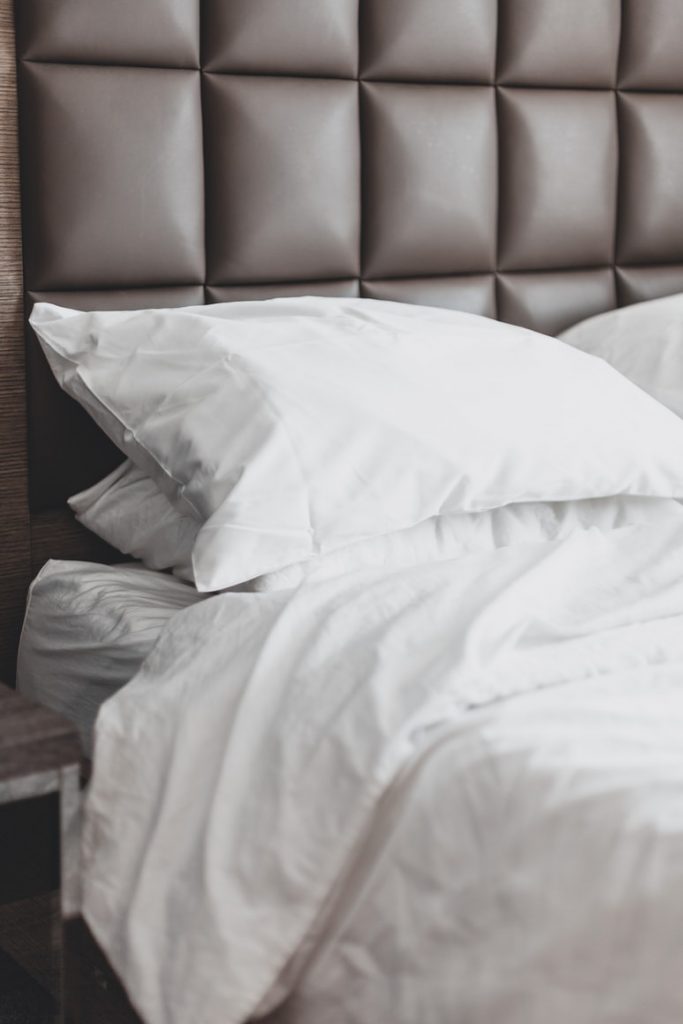 Should New Sheets Be Washed Before Use?
New sheets should always be washed before use. This is to help remove the chemical substance used by manufacturers when producing the sheets. It also helps eliminate any lingering odors the sheets might have picked up.
Be meticulous with this step.
You should wash the new sheets at least 2-3 times.
How Do You Make Rough Sheets Soft?
To make rough sheets soft, wash them on high heat two or three times. This will help eliminate any chemical substance found on the sheets. When washing them, remember to air dry the sheets rather than using the dryer.
Final Thoughts
Why do my new sheets feel like sandpaper?
New sheets can feel like sandpaper because of the chemical substance used by manufacturers. This is to help preserve the sheet's structural integrity. To get rid of the scratchy feeling, wash the sheets on high heat 2-3 times. Once done, air dry the sheets for maximum results.
You will realize the sheets are going to feel silky smooth by the time you have washed them.
If you don't wash the new sheets, it's common for this type of problem to arise.
It can be any material and the same issue will pop up. You have to be careful while managing a situation such as this.
Read More On Bedrooms: