Kitchen islands are a staple element in modern kitchens.
The only difference is the type of kitchen island you decide to go with. Some people prefer a raised kitchen island while others go with a flat kitchen island.
This makes it important to understand the differences between a raised kitchen island vs flat island.
A raised kitchen island offers increased privacy, grease splatter protection, and additional counter space. While a flat kitchen island makes the kitchen look spacious. It often comes down to preference when choosing between the two.
Both kitchen islands are trendy and it is important to choose what works best for your specific layout.
If it is out in the open, you may want to have that step-up kitchen island to block the mess you're making on the countertop.
On the other hand, some people prefer leaving things as open as possible to showcase the other features in their kitchen.
This article will dive deeper into explaining the differences between a raised kitchen island vs a flat island.
Sale
Homestyles Americana Kitchen Island with Wood Top and Drop...
Kitchen Island with raised detail cabinet doors
Overall dimensions – 49.75" W x 26.5" D x 36.5" H | Leaf extended – 36" D | Leaf weight limit – 50 lbs. | Top...
Drawer dimensions – 10" W x 16.5" D x 3.75" H | Drawer weight limit – 30 lbs. | Shelf dimensions (Outside) –...
Last update on 2023-01-27 / Affiliate links / Images from Amazon Product Advertising API
Differences Between Raised Kitchen Island Vs Flat Island
1. Protection From Grease Splatters
Grease is a common concern when it comes to preparing meals in the kitchen.
You will be doing all of your cooking in this part of the house, which means grease splatters are a part of life. You are not going to find it easy to avoid those splatters and that's what frustrates people.
With a raised kitchen island, the step-up design provides protection.
The grease is not going to splatter all over the place and will instead remain within the kitchen island.
On the other hand, a flat kitchen island does not offer this type of protection against grease splatter.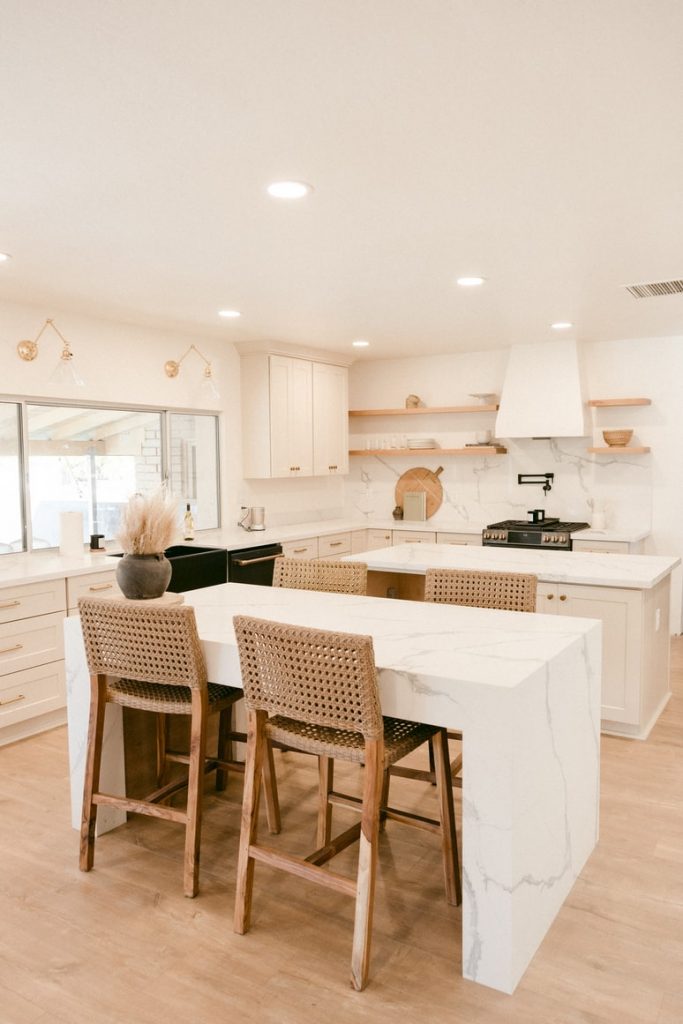 2. Aesthetics
When comparing a flat kitchen island to a raised kitchen island, it's also essential to think about the aesthetics.
In the end, everyone will have one eye on the stylistic nature of the island. It has to work with the overall look and feel of the space.
Raised kitchen islands have more of a presence but they do take up more visual space. This isn't always useful if you want to show off other parts of the kitchen.
While a flat kitchen island is sleek and lets the eye travel from one part of the kitchen to the other.
This is why your preference plays a role as this is a subjective detail.
3. Privacy
Do you want to leave the mess on the countertop while eating or speaking to your guests?
It's not as easy to do with a flat kitchen island.
You will have to keep that part of the kitchen clean as there is nothing to hide the mess behind. This doesn't apply to a raised kitchen island as the step-up design will hide everything.
You can tuck the mess behind the raised kitchen island and know it will be impossible to see.
This is a key detail to think about as a property owner.
You have to figure out how the kitchen island is going to apply to your lifestyle.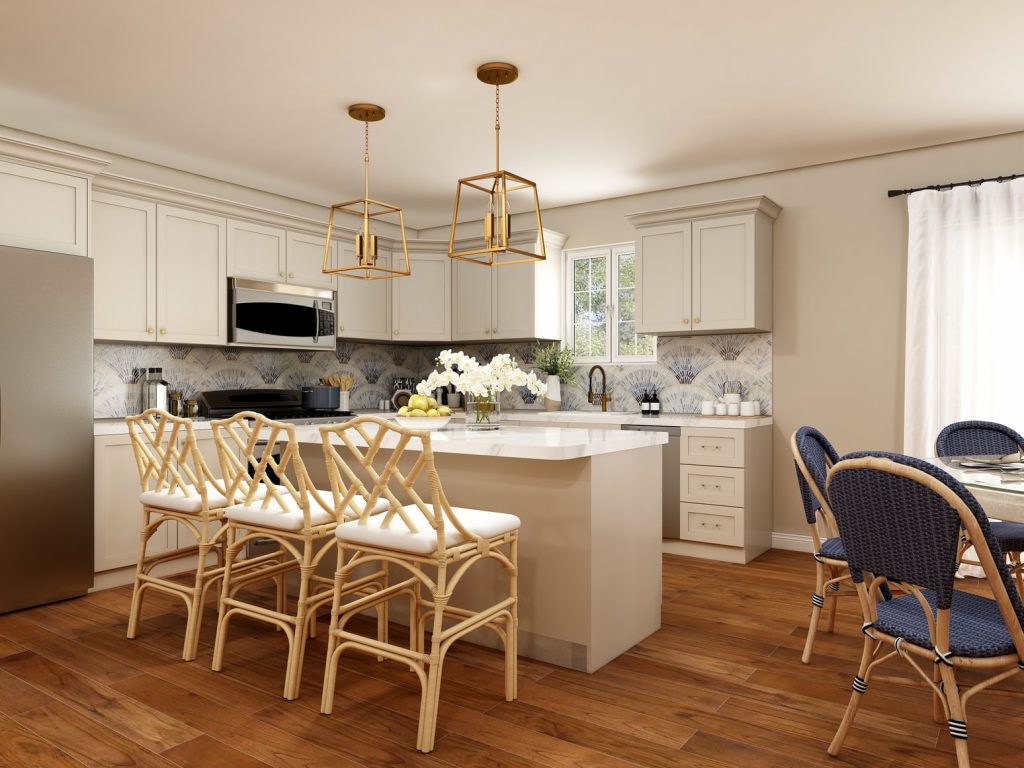 Are Raised Countertops Out Of Style?
Raised countertops are not out of style but they are uncommon among modern properties. Most homeowners prefer a flat kitchen island as it helps accentuate other elements of the space such as the cabinetry, backsplash, and/or appliances.
This is one of those choices that will be down to what you need.
If you are someone that makes a mess in the kitchen while cooking, the step-up kitchen island is useful. You will have no problem hiding the messes behind the kitchen island.
Final Thoughts
These are the differences to focus on when looking at a raised kitchen island vs a flat island.
When comparing a raised kitchen island to a flat kitchen island, the differences are seen through the raised island's added counter space, privacy, and splatter protection. On the other hand, a flat kitchen island is more modern and sleek.
Choose what works best for your space.
If you are someone that is going to want to keep things as sleek as possible then it makes sense to pursue a flat kitchen island. The design will be gorgeous and it's going to look the way you want it to.
If you want more privacy then a raised kitchen island works well.
It's simply down to what you need.
Don't settle for a kitchen island that doesn't appeal to your requirements or lifestyle. This is how you end up with something that is inefficient.
Read More On Kitchens: