Having 4 or 6 recessed lights in the bedroom can be intriguing as a renovation project.
Most people want to upgrade the lighting in the bedroom but it's not always easy to do so. This can include not understanding how much light is required in this part of the property or what works best over the long term.
Due to this, you will ask, is recessed lighting in the bedroom good?
Recessed light in the bedroom is a recommended way to upgrade the lighting in this part of the property. It offers increased coverage, looks modern, and works well in all types of situations.
A key detail to note is that recessed lights in the bedroom do not have to be all over the place. It's okay to go with a tasteful installation of recessed lights that are spread across the house.
This will ensure you end up with something that's well-rounded and still offers enough light to look good.
Here is a detailed look at the pros and cons of recessed lights in the bedroom.
Sale
Ensenior 12 Pack 6 Inch Ultra-Thin LED Recessed Ceiling...
💡【IC Rated】This canless LED recessed light is IC rated, which is permitted to be in contact with insulations in...
💡【High Brightness】The 6-inch slim lights use the new generation of LED chips with higher lumens and lower power....
💡【Easy Install】The low profile recessed lighting is suitable for retrofit and new decoration: Cut a hole in ceiling...
Last update on 2023-01-27 / Affiliate links / Images from Amazon Product Advertising API
Pros of Recessed Lights In Bedroom
1. Extended Coverage
Using recessed lighting in a bedroom comes down to overall coverage.
You will want all parts of the bedroom to be lit up when the lights are on. This is a common requirement and one you are going to think about when deciding the layout for recessed lights in the bedroom.
Keeping this in mind, recessed lights offer tremendous coverage.
They can light up the entire bedroom as soon as they are turned on. This can provide peace of mind to those who have a larger bedroom and need as much coverage as possible per light.
It is due to this reason that you can get away with a few recessed lights in a large bedroom. They cover a lot of space.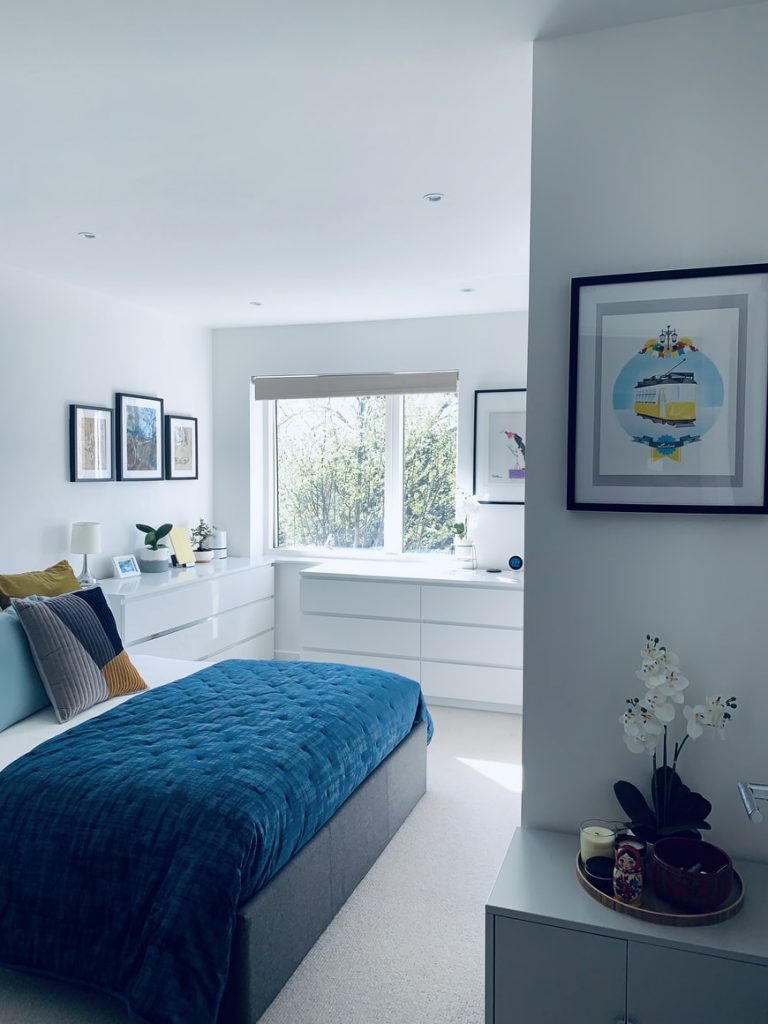 2. Modern Look
If you have recessed light over a bed, it is going to look sleek and unique.
Most people are used to traditional lighting designs including a singular light in the middle of the bedroom.
There is nothing wrong with that look and it is often expected. However, it can become bland and you might like how much area it covers when on.
Due to this, more and more people are looking at recessed lighting for bedrooms. These lights are great because they look amazing as soon as they are set up and have that sophisticated elegance your room requires.
3. Space-Efficient
Even if you have 2 recessed lights in the bedroom, you are going to be choosing something compact.
This means it is not going to take up a lot of space as soon as the light is installed. This is ideal for those who have a smaller bedroom and still want high-quality lighting.
Instead of settling for bulky traditional light sources, why not install recessed lights in the bedroom? It's a simple way to elevate the bedroom's aesthetic.
Cons of Recessed Lights in Bedroom
1. Use Up More Power
The amount of power that's used by a recessed light can be difficult to handle for those setting up a budget.
In general, you should be looking to go with eco-friendly recessed lights to help save money. This is a good way to make sure you get to enjoy the benefits of recessed lights in the bedroom without having to pay more in bills.
For the most part, if you choose the right type of recessed lighting for the bedroom, you are going to be good to go.
The lights will look amazing and you are not going to use a lot of power.
2. Easy To Overdo
This is a major issue with recessed lights in a bedroom.
Many property owners will know they look good but tend to overdo things. This means they install too many recessed lights within the bedroom causing it to become excessively bright when turned on.
This is unappealing and something you want to avoid.
The best option is to spread out the recessed lights and make sure a dimmer is set up with them. This allows you to play around with how bright the recessed lights are in a bedroom.
Final Thoughts
These are the advantages and disadvantages of recessed lighting in the bedroom.
There is nothing wrong with installing recessed light in the bedroom. These types of lights are sleek, space-efficient, and work well in all situations. The only thing to consider is the number of recessed lights installed in the bedroom and how much coverage they offer. You can often get away with fewer recessed lights per square foot.
Keep this in mind when it is time to install recessed lights in the bedroom.
Read More On Bedrooms: