Samsung fridges are renowned for being well-made, sophisticated, and in line with contemporary trends.
This ensures any home with a Samsung fridge is going to have a well-functioning space that caters to all types of food and beverages.
Keeping this in mind, it's important to understand why specific components in the fridge are not working. This includes a common problem when the Samsung water filter won't push in.
If a Samsung water filter won't push in, the most common reasons include a misaligned water filter, the child-lock setting is on, or the fill nozzle has frozen. To fix the issue, turn the water filter clockwise until aligned with lock position, check the child lock, and pour warm water over the fill nozzle.
It is likely one of these issues that are causing trouble.
Go through each step to figure out how to manage a Samsung water filter that won't push in. This guide will showcase what to do and what not to do.
Sale
HOOJO Refrigerator Organizer Bins - 8pcs Clear Plastic Bins...
8 Pieces Fridge Organizer Bins Set: Each refrigerator storage bin measures 12.5'' L x 6.3" W x 3.5" H. Use these...
Making Storage More Easier: These sturdy and medium capacity bins are great for creating a clean and organized refrigerator...
Clear View: You can easily find what you want with clear view. Significantly cuts time from looking around,saving your...
Last update on 2023-01-31 / Affiliate links / Images from Amazon Product Advertising API
How To Fix Samsung Water Filter That Won't Push In
1. Inspect the Water Filter
The first step is to inspect the water filter as that is the root of the problem.
You will want to see whether or not the Samsung water filter is loose or stuck. It's common for the water filter to get stuck depending on how it was installed.
This is why looking at the water filter has to be the first part of your repair process.
To get started, turn the water filter anti-clockwise to loosen it. Pull down and then reposition the water filter until it is aligned with the lock symbol.
This is when you will know it is in the right spot.
If you notice the water filter is damaged then that is the reason for it not being easy to push in. Take your time to line it and ensure you are turning it slowly while pushing.
2. Align Water Filter By Turning It Clockwise
Remember, you will want to align the water filter by turning it clockwise.
How much should you turn the Samsung water filter?
Just turn it 1/4 inch and then push up. If it doesn't go in, continue to turn it. You will also see the lock symbol to help you align the water filter properly.
Go through this process until you are sure it is in the right spot. This is a must before you look elsewhere.
3. Check The Child Lock
This is one of the hidden issues that can arise when it comes to a Samsung water filter that won't push in.
The idea is that a child lock setting has been activated on your fridge to ensure no one accidentally presses the buttons causing water or ice to leak.
As a result, it also makes it impossible to push the water filter in the way you want to.
To fix this, you will want to go through the settings and turn off the child lock setting. This will vary depending on the Samsung fridge model in front of you.
4. Pour Water Over The Fill Nozzle
The last step is to pour water over the fill nozzle.
Why is this important?
Sometimes, the fill nozzle will get jammed with ice and this happens due to a rapid decrease in temperature within the fridge.
To avoid a situation such as this, you should always regulate the fridge's temperature. However, now that you are already dealing with this problem, the next step is to unfreeze the fill nozzle.
To do this, you will want to make sure to pour warm water over the fill nozzle. Do this for a few minutes.
It will start to melt the ice due to the heat.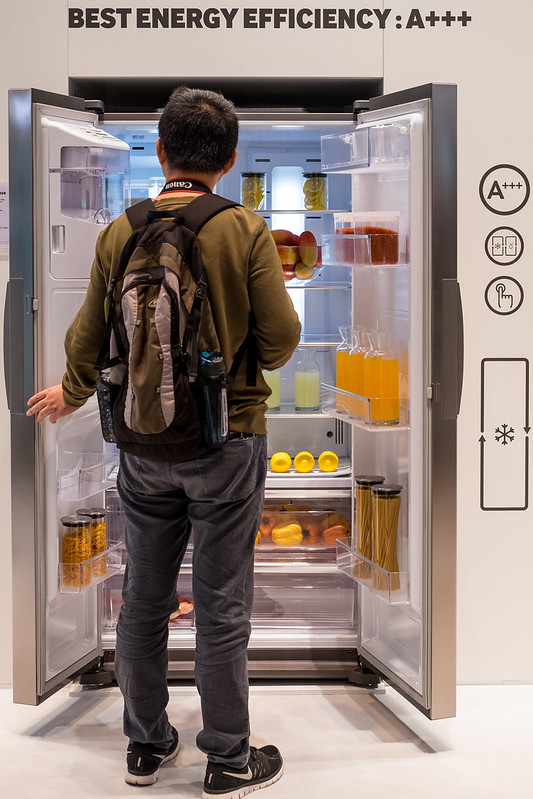 Why Is My Water Filter Not Going In?
The water filter is not going in because it's misaligned or damaged. To fix this issue, find the water filter and turn it 1/4″ clockwise. Do this slowly and push up at the same time. You will notice it lock into place once it goes in.
Don't try to force the issue when doing this.
Be patient and methodical. This is how you are going to line up the water filter and ensure it goes in the way you want it to.
Final Thoughts
These are the tips to focus on when fixing a Samsung water filter that won't push in.
If a Samsung water filter won't push in, the reasons can include a damaged water filter, misaligned filter, frozen fill nozzle, and/or the child lock is on. To fix the issue, turn the water filter clockwise by 1/4″ until it is lined up with the lock symbol. It's also recommended to check the child lock settings and pour warm water on the frozen fill nozzle.
If you do this, the water filter is going to go in the way you want it to.
Read More On Kitchens: