Spending $1000+ on self-leveling concrete is just not worth it.
Most people don't want to spend that kind of money on something that can be replicated with a bit of hard work.
If you want to avoid using self-leveling concrete then it's time to learn what works as the cheapest way to level a concrete floor.
The cheapest way to level a concrete floor is to use a specialized sand mix. This mix includes concrete and will easily spread across the floor for an even finish. To do this, spread the sand mix on the floor, spray it with water, and then let it dry. Once dried, use a bristled brush to remove sand particles from the top surface.
This process is going to save you 90% when it comes to the overall cost. This is a significant amount, especially over a larger space!
Here is a complete breakdown of what you have to do when finding the cheapest way to level the concrete floor.
Last update on 2023-01-27 / Affiliate links / Images from Amazon Product Advertising API
How To Level Concrete Floor Cheaply
1. Do Not Use Self-Leveling Concrete
When finding out how to level an uneven concrete floor, it's important to avoid using a costly option such as self-leveling concrete.
Yes, self-leveling concrete works but it also costs too much.
Most people are on a tight budget and this is an expense they don't want on their shoulders. As a result, it's time to look at finding a cheaper alternative for leveling a concrete floor.
2. Invest in a Good Sand Mix
When self-leveling concrete over a large area, it's important to invest in a robust material such as sand mix.
Sand mix with concrete is one of the best and most cost-effective options available to you. It is going to work well and it's not going to cost too much.
This is an ideal material when you want to find the cheapest way to level a concrete floor.
The reason sand mix works is that it has the right consistency and is going to provide the type of foundation you're after for the flooring.
3. Spread Sand Mix Evenly
Now, you are going to start spreading the sand mix.
You can use any tool to do this but it's recommended to find a flat-edged tool that will help spread the sand mix across the floor.
You don't want gaps to be present once you are done.
If necessary, get on your knees to find spots that have to be covered. There will be gaps that can be covered with a little bit of sand mix added on top.
Take your time during this step and ensure it is well spread out before watering the mix.
4. Soak With Water
Your goal after the sand mix is settled on the floor is to soak it.
This is going to be done with water and it's important not to do it with a pressure washer. You want to sprinkle the water on top as that is all you require to add moisture.
Too much force during this step might cause the sand particles to spread unevenly.
Take your time and make sure the entire surface is moist. This is a must.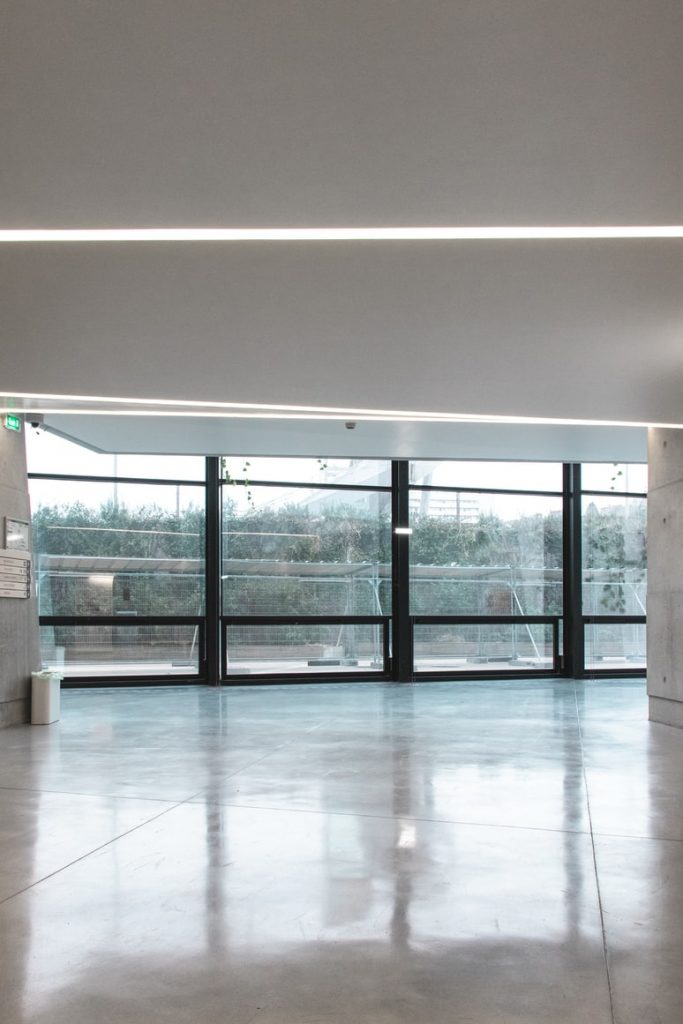 5. Let It Dry
Now you are going to wait for the concrete floor to dry.
The goal is to make sure it dries evenly and there aren't moist patches all over the place. To check, place your hand on top of the surface to find those moist patches.
Once there are no patches, you can look at the next step.
6. Brush Sand Particles From Top Surface
The last step comes down to your particular situation.
Some outcomes are not going to have sand particles on the top surface while others are. Just make sure to check whether or not the sand mix is unevenly spread out.
This will ensure you can get rid of the sand particles before they get in the way.
To do this, just use a bristled brush and sweep the particles aside. This should not take a long time to complete.
Final Thoughts
This is the cheapest way to level a concrete floor.
The cheapest way to level a concrete floor is to use a specialized sand mix. This sand mix is 90% more affordable than self-leveling concrete while producing similar results. To do this, you will spread the sand mix across the top, spray it with water, and then let it dry. Once dried, brush the sand particles using a bristled brush.
It's a long process but one that will save you quite a bit of money immediately.
Read More On Floors: